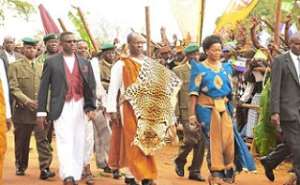 King Kabaka Ronald Muwenda Mutebi of Buganda and his entourage
Known as Muwaawa before the 12th century, Buganda is located in the south-central region of Uganda. They are the largest single ethnic group in Uganda and it is believed that the people come from Abyssinia through the rift valley and mountains of Elgon.
Occupying the districts of Kampala, Mpigi, Mukono, Masaka, Kalangala, Kiboga, Rakai and Mubende, they are a Bantu –speaking people and their language is called Luganda.
The impact of Aids in Africa is disastrous, to rally Africa community as an advocate for an inclusive response to the AIDS epidemic, the United Nations appointed Kabaka Ronald Muwenda Mutebi the King of Buganda to carry on the message of HIV/AIDS prevention as Goodwill Ambassador for entire Africa.
Recently, the Dutch scientist and micro-surgeon, Johan Van Dongen, had the opportunity to communicate with King Kabaka Mutebi, enabling him to ask him a few questions about the present effect of Acquired Immune Deficiency Syndrome (AIDS) in the Kingdom Buganda.
What is the situation in Buganda concerning Aids?
There has been sensitization about the virus and encouraging testing amongst the youth and married couples as well as using protective measures not forgetting taking ARVS to those who have it. Faithfulness in a relationship has been emphasized.
Are you aware Aids and Ebola are man-made diseases?
We have just come to learn through your blog otherwise we have not been aware.
Are you aware of the fact Aids can be cured?
This is still news to us!
What do you think of the following publication about Ebola? Ebola: Who created this terrible virus and why?
The website is unleashing so many secrets about US Biological Warfare against Africa and we're surprised nations like Uganda, Sierra Leon, DRC, Liberia, Nigeria and others have been used as testing grounds for the deadly viruses. This must be investigated and those responsible should not be spared.
Have you ever heard of the health blog 'Secrets Of Aids And Ebola Facts Journal?
It's our first time and we have also read its content through you. The publications there are terrifying. There are other two writers engaged, a German doctor, Wolff Geisler and an African journalist, Joel Savage.
How is the medical situation in Buganda?
Buganda has challenges of good hospitals and their scarcity of drugs and good facilities. More than 15 million people in Buganda are living in undesirable health conditions with women dying while giving birth as well as infant mortality rate high.
Are there medical or vaccine trials carrying out at the moment or in the near future?
Yes, Makerere Walter Reed Project is trying to manufacture and test HIV Drug, Marburg & Ebola funded by the US. Quality Chemicals House is manufacturing ARVs for domestic and Export Purposes.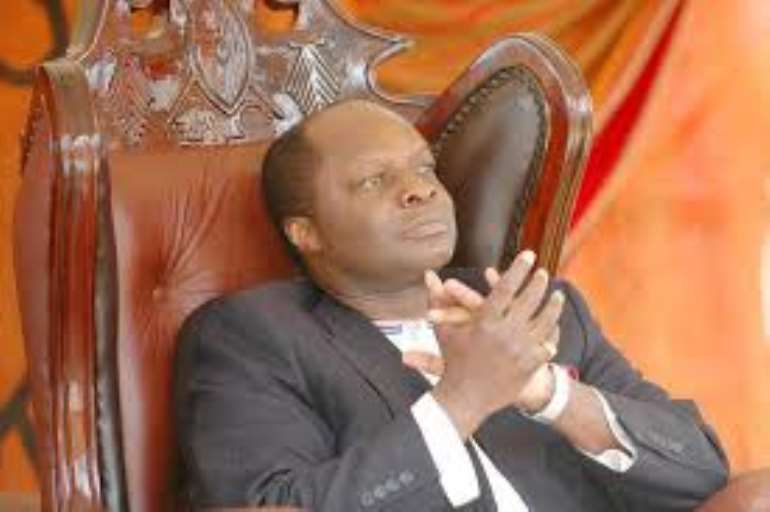 The King of Buganda, Kabaka Ronald Muwenda Mutebi
Are you aware of genetically engineered viruses and contaminated vaccines to reduce the population of Africa?
We're not aware.
Is there anything you want to say for publication?
Please, research on Psoriasis too, could be a biotech weapon and equally, we hope to protest US actions based on the knowledge we have learned here but we shall need more proof to back our campaign before International Community.
Editorial
Despite that the Aids and Ebola medical crimes engineered by the US government to depopulate Africa aren't secret but widely known, there are still thousands of Africans due to the lack of effective dissemination of information, have no ample knowledge about those medical crimes the US government enjoys impunity.
However, this is the reason we created the health blog 'Secrets Of Aids And Ebola Facts Journal,' to spread the message and without any fear, we shall continue to spread the message to all the corners of the world for everyone to know what a country that preaches about democracy and Human Rights violation can do. Hypocrites!